Welcome to the Institute
Keynote Speaking, Resources & Books That Drive Happiness
We're sitting at the brink of a happiness revolution. Everyone wants it. But where do we find it? Sure, we all push at the gym to lose five pounds. But how many of us push on our happiness?
We know that happiness is a choice. We just don't have the resources to choose it. Until now.
Introducing the Institute for Global Happiness. Keynote speaking, resources and books that drive happiness and leadership in businesses and organizations.
---
Our Mission
Our mission is to improve happiness levels inside organizations. Simple resources. Bestselling books. Leadership keynotes. By Neil Pasricha.
The Institute's Core Values
1. Rule of Three
To save reader time there are no "stack dumps" of information or laundry lists of a hundred links. We believe there's great value in trusted curated lists. We may grow and prune these lists but the most resources offered, at any time, will be three. We offer the reader a trusted opinion.
2. Rule of Happier
Happiness is the long term vision but the simpler goal of becoming happier is more achievable as it doesn't define an endpoint but rather a step forward from any starting point. The Institute's goal is happier not happiness.
3. Rule of Games
We believe that developing happiness can be fun and the tools, exercises, and assessments have a game-based philosophy to them. They are meant to be fun, measurable, and even competitive. (i.e., Fitbit-like)
Our Manifesto
We all want to be happy.
And the truth is that we want to be happy more than anything else.

Sure, being a rich, pretty, real estate agent might be nice. But new studies show that university grads now want happiness more than wealth for the first time ever.
Google Trends even shows a massive spike in happiness interest versus wealth over the past ten years.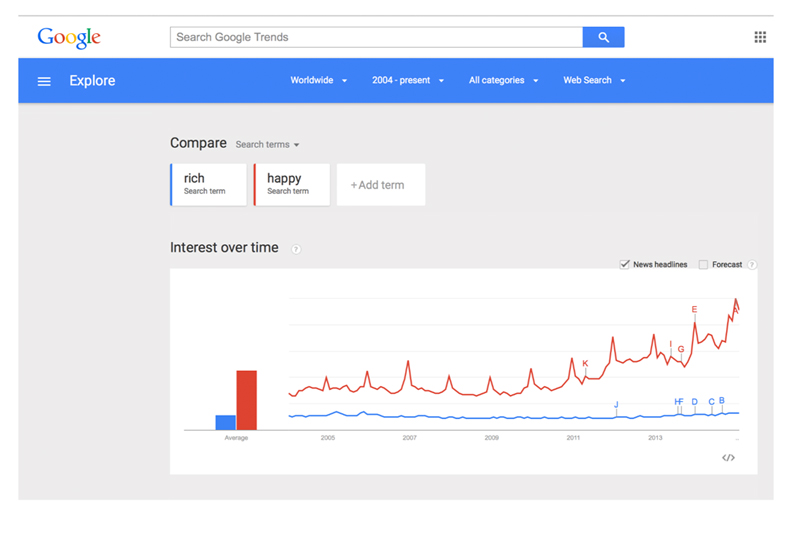 Presumably only one major red spike in there can be attributed to Pharrell.
So, we all want to be happy. And we're more interested in happiness than we used to be. Those two statements beg a big follow-up question.
Are we?
Well, sadly, the answer is a clear and resounding no. Professor of Psychology David G. Myers at Hope College and his team have lead the largest ever longitudinal study on happiness. They've spent over fifty years studying the percent of people who are happy in society. That's a long time to commit to a project! And unfortunately it hasn't shown a very happy lift.
Here are the results: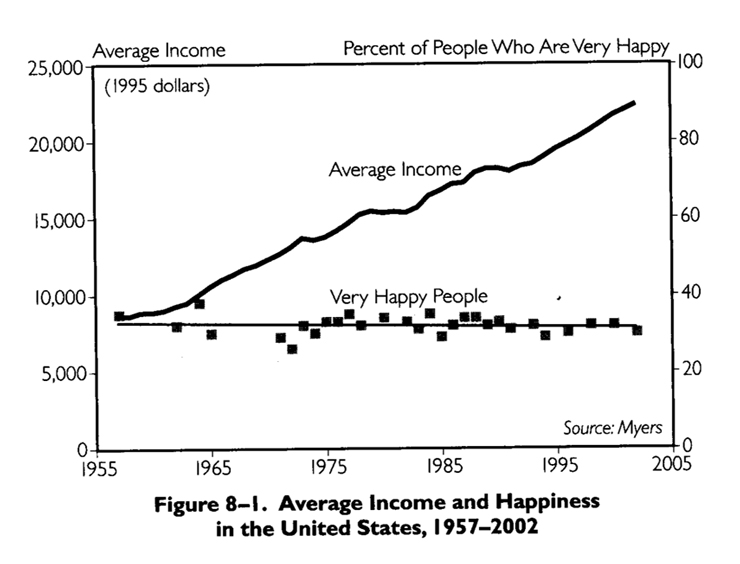 Yes, the truth is we haven't moved the needle at all.
Over the past fifty years the number of people who say they're very happy is the same. This despite massive increases in our wealth, safety, technology, freedom, access to information.
All those things have shot up!
But happiness has stayed flat.
So, we want happiness but we haven't been getting it.
Now let's look a little deeper.
Let's ask ourselves "Well, where are we the happiest? And where are we the unhappiest?" Thankfully, Dr. Matt Killingsworth of Harvard has studied over 15,000 people in over 150 countries through an innovative app called Track Your Happiness and the results are very clear.
Resoundingly so!
Check out the results on the bubble chart below. The happiness scale is left to right and the size of the bubble is how much time we spend doing it.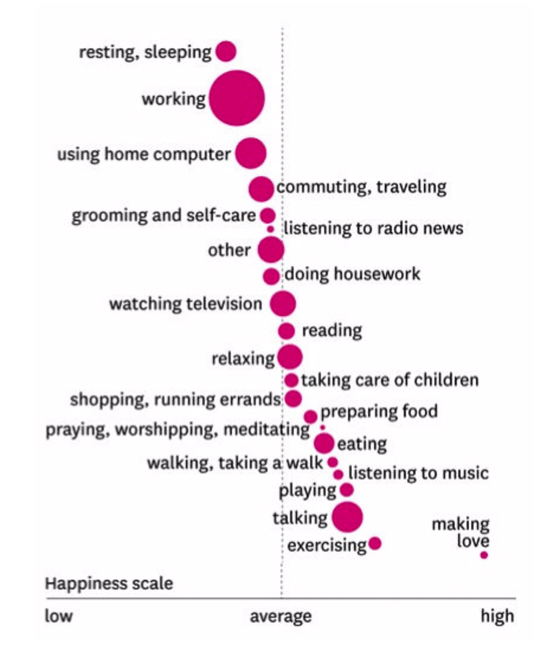 Increasing Happiness in Organizations
Why organizations? Because that's where we spend most of our time and that's where we are the most unhappy. Basically, it's where we at The Institute can make the biggest difference in our lives.
So why The Institute?
How can this organization help with this big global problem?
We know it's  a critical question because the happiness industry is cluttered.
It's not just Pharrell. It's Oprah, Ellen, Dr. Oz. It's happiness apps on iTunes, happiness songs on YouTube, happiness courses at Ivy League schools. There are over seventy-five thousand books on happiness. There are happiness retreats, happiness camps. There are a lot of beautiful happiness snowflakes in a big swirling happiness blizzard.
So what makes us different?
Let's explain what we do by explaining where we are in the industry.
Picture a giant plus sign. Yes, it's a long vertical line going up and down. And it's a long horizontal line going left and right. The Institute for Global Happiness is in the middle.
Let's talk about each line one by one.
The vertical line is called Who
Let's talk about Who first.
Who Do We Serve?
What's on the bottom of the line?
It's incredible people working on your individual happiness. Ellen, Oprah, Gretchen Rubin. And they're doing great work. But those folks don't necessarily help inside companies. Very few management teams watch Ellen together in the boardroom.
What's on the top of the line?
It's the big consulting companies. McKinsey, Deloitte, and others sell million dollar culture and engagement projects to boards and C-suites. Great work, too. But at the institutional level. The C-suite buys the Powerpoint for seven figures. Our clients can't afford that. It's too high-level for the "Help me now!" feeling in the trenches. The organizational culture initiative is not going to help my twenty-person sales team work together better by next week. Our Happiness 101 free downloadable workshop can.
And that's where we come in.
We're in the middle. We're talking about manager level. Are you in charge of a team at a Fortune 500, running a hospital group, chairing a committee or non-profit, or coaching a football team?
Well, The Institute is for you.
So, that's who The Institute is for, but what about the what? 
Well, that's the other line! The one going from left to right.
What we offer
So, what's on the left side of this second line?
Those are the things that just make us happy. Inspiring quotes. Cat videos on YouTube. 1000 Awesome Things. Nature scenes. Funny emails. Hey, those things are great! They make us happy. But they don't teach us happiness. We don't learn how to create and measure long term happiness. We don't develop habits that drive happiness on a sustainable basis.
What's on the right side of the line?
Hardcore happiness. Research, academia, scientific reports of happiness studies. But it's too far down the slope the other way. Dense hundred-page PDFs and lengthy study results published in positive psychology periodicals are unreadable to the average person. How many people have the six hours required to comb through the 175-page United Nations World Happiness Report? It's great content but not widely accessible.
And that's where The Institute comes in…
We're in the middle.
We're offering simple resources developed for the average person to drive long term happiness.
The middle is The Institute for Global Happiness.
We think it's a unique place in the blizzard. We aim to offer resources, books, and speaking that drive happiness levels in organizations.
Thanks for coming by.
And come on in,
– Neil