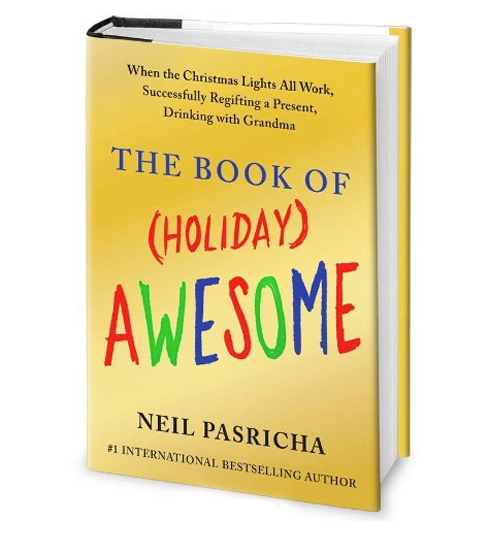 Book of (Holiday) Awesome
#1 International Bestseller
A compact holiday gift version in the series celebrating life's simply and daily pleasures.
Download the first 20 pages
---
About the Book
There's nothing like the holidays. They bring out the best, and sometimes the worst, in everyone. Luckily, Neil Pasricha has put together this third collection of awesome things to remind us that holidays great and there's even more to celebrate than we realize. From Christmas, Hanukkah, and Kwanzaa to such holidays as Mother's Day and Father's Day, Thanksgiving, and beyond, The Book of (Holiday) Awesome will help you appreciate small pleasures like:
Plugging in the Christmas lights from last year and having them all work.
When the in-laws leave.
Just barely wrapping a gift with that tiny scrap of leftover wrapping paper.
Getting a Christmas card from someone you thought you lost touch with
When a neighbor shovels your little patch of sidewalk
Eating all the chocolates in the Advent calendar all at once
Knowing Kwanzaa is worth more Scrabble points than Hanukkah or Christmas.
And many, many more.
About the Author
Neil Pasricha never imagined that writing about the smell of gasoline, thinking it's Thursday when it's really Friday, or wearing underwear just out of the dryer would amount to anything. A self-described "average guy" with a typical 9-to-5 job in the suburbs, Neil started his blog 1000 Awesome Things, as a small reminder — in a world of rising sea levels, global conflict, and a troubled economy — of the free, easy little joys that make life sweet. He certainly didn't anticipate that his site would gain a readership of millions of people, win two Webby Awards ("the Internet's highest honor" according to The New York Times), be named one of PC Magazine's Top 100 Sites, or become a place where people from around the world would come to celebrate the simple pleasures of daily life.