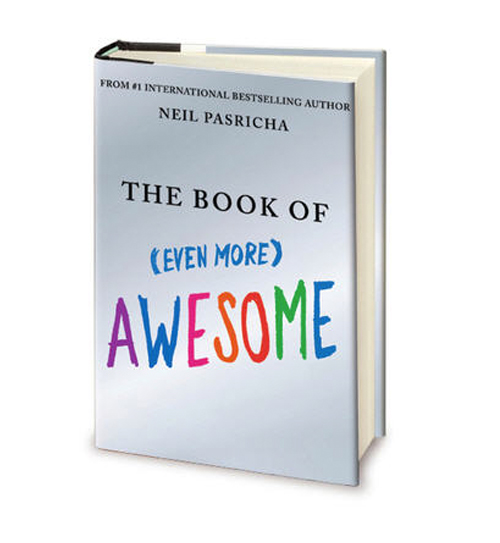 Book of (Even More) Awesome
#1 International Bestseller
New York Times Bestseller
Studies show that thinking about three gratitudes a day dramatically increases happiness levels. The Book of (Even More) Awesome is a 400-page gratitude list to remind you to appreciate and enjoy life.
Read the first 20 pages
---
About the Book
From the author of the #1 international bestseller The Book of Awesome and the award-winning, 50-million hit blog 1000 Awesome Things (LINK) comes even more of the little things that make us smile. Neil Pasricha's second awesome collection includes hundreds of extraordinary little moments that deserve celebration like:
Letting go of the gas pump perfectly so you end on a round number
When a baby falls asleep on you
Pulling a weed and getting all the roots with it
When your windshield wipers match the beat of the song you're listening to
The smooth feeling on your teeth when you get your braces off
Driving from a rough road onto a smooth one
When the person you're meeting is even later than you are
That guy who helps you parallel park.
And many, many more.
About the Author
Neil Pasricha never imagined that writing about the smell of gasoline, thinking it's Thursday when it's really Friday, or wearing underwear just out of the dryer would amount to anything. A self-described "average guy" with a typical 9-to-5 job in the suburbs, Neil started his blog 1000 Awesome Things, as a small reminder — in a world of rising sea levels, global conflict, and a troubled economy — of the free, easy little joys that make life sweet. He certainly didn't anticipate that his site would gain a readership of millions of people, win two Webby Awards ("the Internet's highest honor" according to The New York Times), be named one of PC Magazine's Top 100 Sites, or become a place where people from around the world would come to celebrate the simple pleasures of daily life.